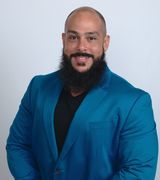 James Vulpetti
Hello everyone my name is James G Vulpetti. I am a Florida native, born and raised in Miami, Fl. I have lived on the Treasure Coast since 1998. I have been involved in real estate since 2005. I come from two immigrant parents. My father was born and raised in Trapani, Sicily and my mother was from Havana, Cuba. Thanks to them I speak 3 languages: English, Spanish, and Italian. I love what I do and consider it a daily routine, not a job. I feel that people should do what they enjoy so it doesn't become work it's always fun.
I know many people and all of my past clients will freely tell you once you meet me it's like meeting a long-lost friend. I love to make people happy and smile. I am a MAJOR numbers person anyone that knows me can tell you that. If people's names were numbers as opposed to letters I'd probably remember many more.
I work all around with both buyers and sellers. I do very well with buyers, I give them what the true value of the homes they are looking at is and show them ALL available. Sellers love that I can market their homes and get them sold sooner than expected. I give them real numbers and what their real return on their biggest investment will be. I do Residential/Commercial for sales/rentals. I have knowledge in all aspects of real estate.
I service Martin, St Lucie, and Palm Beach Counties. Occasionally I will travel to Broward and Dade back home.
Phone: 772-634-0575
Fax: 772-873-7189
Pinnacle Real Estate Group
1915 NE Ricou Terrace Jensen Beach, FL 34957
Coupon: vulpettire@gmail.com